Former U.N. Ambassador and South Carolina Governor Nimrata (Nikki) Haley (R-SC) has been another on-again-off-again supporter of 45th President Donald Trump. But Haley has shown time and time again she is not a traditional conservative. She supported removing Confederate symbols in South Carolina. She also tends to lean more towards being a "pro-war" Republican in the eyes of many.
Donald Trump has gone on record stating that Robert E. Lee was a "good man" and that he is against the removal of any historical monuments.
She also has a close friendship with U.S. House Rep Dan Crenshaw (R-TX) who has been making a name for himself as anti-Trump. Crenshaw also recently said that Jesus was not a real hero but a mythical one. The Republican party is trending back towards a Christ-based, America First agenda in the eyes of many, although some others on the right may disagree.
This puts the likes of Haley and Crenshaw on the wrong side of the direction of the right-wing. Although both are immensely popular, more and more each day are realizing they are a different type of Republican than many of Donald Trump's supporters.
Haley likely wanted to run for president someday. But she recently acknowledged that Donald Trump is the leader of the GOP right now and would support him if he runs in 2024. But that doesn't mean Haley, 49, wouldn't want to run in 2028 perhaps. Donald Trump dashed those possible hopes recently, putting U.S. House Rep Elise Stefanik (R-NY) in the limelight instead.
Stefanik hasn't always been the best conservative. But more and more recently she's been supporting Trump, in hopes that doing so helps her propel her career after she got famous for defending him against Democrat impeachment attempts.
Donald Trump rewards loyalty, even for those who historically haven't been the best conservatives. An argument could be made that Stefanik may be marginally better than Haley historically, but another argument could be made that she may be more conservative going forward than someone like Nikki Haley too.
It's always a chess game with Trump, and although he doesn't always win, it's the way he does business. Although Haley wasn't specifically mentioned in Trump's recent boost to Stefanik's name recognition in the America First circles, saying that Stefanik could be president in six years, in our personal opinion, says it all.
Haley is only going to wait for so long. 45th President Donald Trump was at a closed-door fundraiser Tuesday. That is when he made the statement we are alluding to. The New York Post reported on Trump's kind words of Elise in part:
"I want to congratulate Elise on her success. Man is she moving fast. That means at this rate she'll be President in about 6 years," Trump said of the 37-year-old chair of the House Republican Conference.
"She's always been a friend and people would say she's upwardly mobile. She goes to Washington as a young beautiful woman who took over and all of a sudden she becomes a rocket ship, she's the boss. She's been a great boss, a strong boss."
Donald Trump and Elise Stefanik are both New Yorkers at heart, although Trump's new home is now Florida, in part because New York City just isn't what it used to be in so many ways, especially politically. But they still have a rich history with their roles as New Yorkers previously and that counts for a lot for people from that region.
The Post also posted a picture of Trump and Stefanik: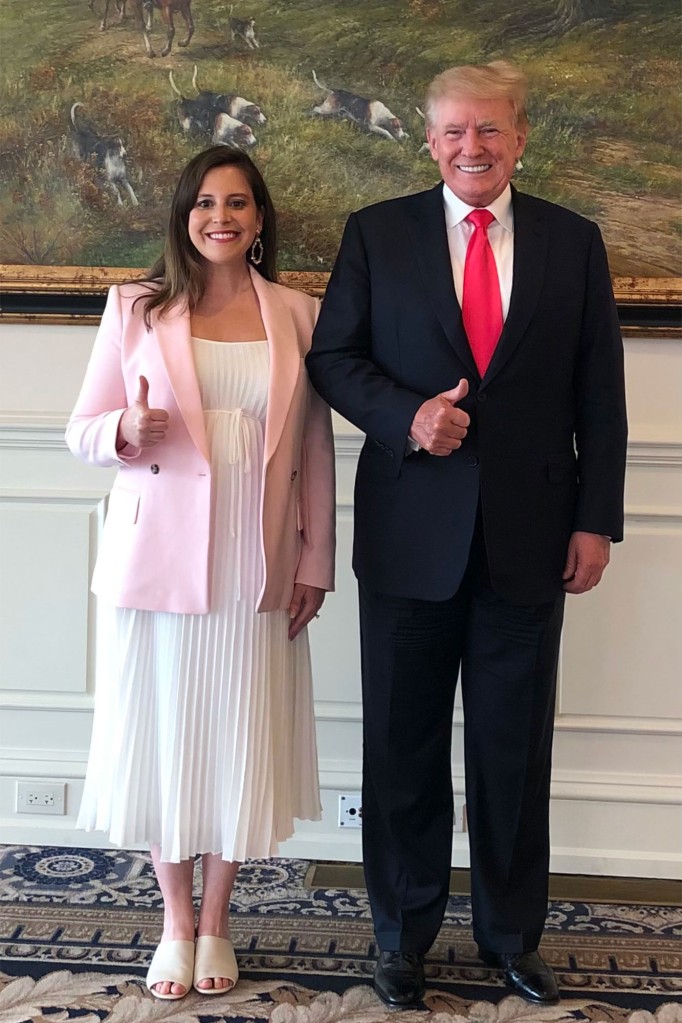 Many Republicans know that supporting Trump comes with risk. But they also know that the risk only goes up when they don't support him. So while some have been riding the fence, others are along for the ride, despite January 6th blowback and Trump's social media bans.
Most people, when they get banned from all major social platforms, don't keep their popularity as well. Arguably, Donald Trump may buck that trend, starting his own platform soon called "Truth Social" and putting out press releases regularly through Liz Harrington and others.
Time will tell what the future holds for Trump, Stefanik, and the upcoming 2022 and 2024 elections. As it stands now, it's not looking good for the Democrat party despite all their gains with urban centers.
Middle American is not thrilled with Biden and his open borders and the message may soon be heard like it was with recent statewide elections in Virginia. Stay tuned for further updates on similar stories and be sure to follow our Telegram by clicking the icon at the top of our website.